Ray Charles Robinson (September 23, 1930 – June 10, 2004),
known professionally as Ray Charles, was an American singer-songwriter, musician, and composer. Among friends and fellow musicians he preferred being called "Brother Ray". He was often referred to as "The Genius".
As a child, he and his mother lived in Greenville, Florida. A photo of his childhood home shows that it is not unlike that of Elvis Presley's in Tupelo, MISS.
Ray started to lose his sight at the age of four or five, and was completely blind by the age of seven, apparently as a result of glaucoma. Ray was taught piano by Wylie Pitman who owned a café that he and is mother would visit often. From 1937-1945 he attended the Florida School for the Deaf and the Blind in St. Augustine, FL. It was here that he was taught classical music with a braille technique. Because he was from the south, styles of music like Country, Jazz & Blues also helped give birth to Ray's style.
He moved to Seattle, Washington to find more work as a musician. Here is a photo of him with the McSon Trio in 1948. One of the earliest photos of Ray, professionally speaking. Note, he's not wearing sun glasses.
It was in Seattle that he meet Quincy Jones. He was later signed to Downbeat records, later known as Swing Time records. He recorded for them until 1952. He had hits, credited to the "Maxin Trio" on Billboard's R&B Charts like "Confession Blues". Note the songwriter's credit in parenthesis under the song title.
Credited to just Ray Charles, he had hits like "Baby, Let Me Hold Your Hand" , also Ray is the songwriter, (1951), which reached number five, and "Kissa Me Baby"(1952), which reached number eight.
Ahmet Ertegun then signed him to Atlantic records when Swingtime went bankrupt. Late in 1954, Charles recorded "I've Got a Woman". The lyrics were written by Ray's bandleader, Renald Richard. Ray claimed the composition. They later openly admitted that the song went back to The Southern Tones' "It Must Be Jesus" (1954, Duke 205). It became one of his most notable hits, reaching number two on the R&B chart. "I've Got a Woman" included a mixture of gospel, jazz and blues elements that would later prove to be seminal in the development of soul music.
Here's the single on the 78 R.P.M. format.
Also on the 45 R.P.M. format.
Charles reached the pinnacle of his success at Atlantic with the release of "What'd I Say", a complex song that combined gospel, jazz, blues and Latin music, which Charles would later claim he had composed spontaneously as he was performing in clubs and dances with his small band.
Despite some radio stations banning the song because of its sexually suggestive lyrics, the song became Charles's first crossover top-ten pop record.
Later, Ray gets signed to A.B.C. Paramount records to gain ownership of his master recordings, which the artist by the way pays for. The 1962 album Modern Sounds in Country and Western Music and its sequel, Modern Sounds in Country and Western Music, Vol. 2, helped to bring country music into the musical mainstream.
Charles's version of the Don Gibson song I Can't Stop Loving You topped the Pop chart for five weeks, stayed at number 1 on the R&B chart for ten weeks, and gave him his only number-one record in the UK.
NONE of these recording charted on Billboard's C&W charts, probably due to the racial attitudes in the U.S.A. at those times. Here's the original cover of the L.P. Considering those very attitudes, one can see why it was not used.
In 1962, he founded his own record label, Tangerine Records which ABC-Paramount promoted and distributed. He had major pop hits in 1963 with "Busted" (US number 4) and "Take These Chains From My Heart" (US number 8).
His cover version of "Crying Time", originally recorded by the country artist Buck Owens, reached number 6 on the pop chart and helped Charles win a Grammy Award the following March.
Charles's chart success, however, started to fade, and by the 1970s his music was rarely played on radio stations. The rise of psychedelic rock and harder forms of rock and R&B music had reduced Charles' radio appeal.
His 1972 album A Message from the People included his unique gospel-influenced version of "America The Beautiful" and a number of protest songs about poverty and civil rights. Charles was often criticized for his version of "America the Beautiful" because it was very drastically changed from the song's original version.
In April 1979, his version of "Georgia on My Mind" was proclaimed the state song of Georgia, and an emotional Charles performed the song on the floor of the state legislature.
Ray has been honored by Presidents
Charles performed at two US Presidential inaugurations:
Ronald Reagan second inauguration, in 1985,
and Bill Clinton's first inauguration, in 1993.
He has influenced countless musicians like Stevie Wonder,
Michael Jackson.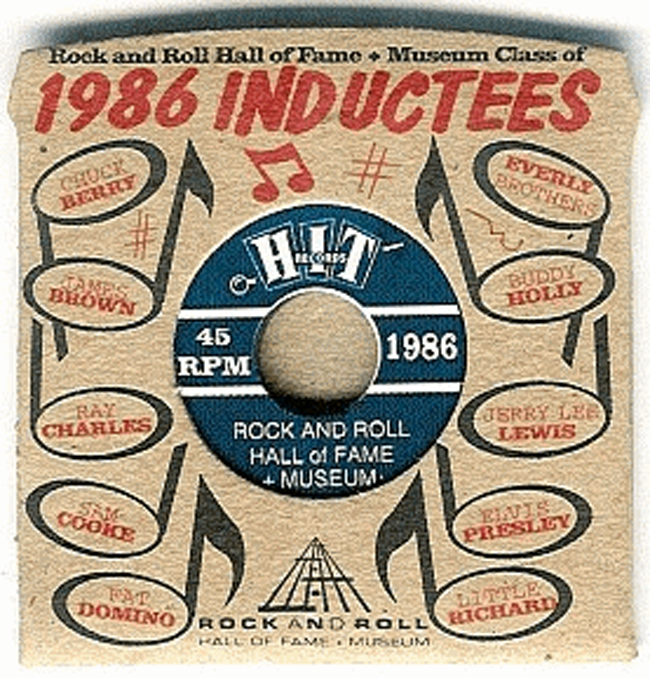 He's been honored with a stamp, Gold Records, Grammy's and
A Star on the Hollywood Walk of Fame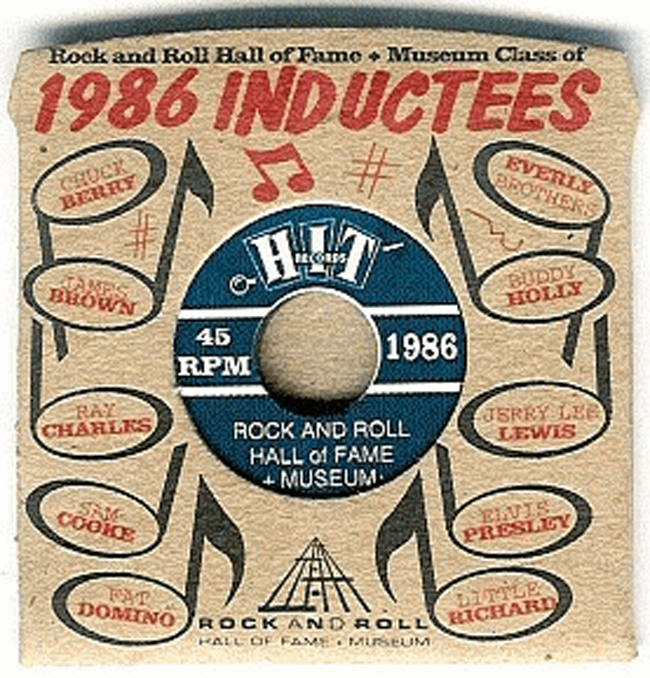 In 1986 he was part of the first "Class" inducted into the Rock 'n Roll Hall Of Fame.
Billy Joel inducted him.
Looked like a great party with Jerry Lee Lewis & Chuck Berry.
The party continued with Jerry Lee AND the Everly Brothers.
In 2003, Charles had successful hip replacement surgery and was planning to go back on tour, until he began suffering from other ailments. He died at his home in Beverly Hills, California of complications resulting from acute liver disease, on June 10, 2004, aged 73, surrounded by family and friends.
This photo of Ray & Chuck Berry says it ALL! God Bless and thanx for all of the GREAT music!