It's the 50th anniversary of the "Singer Presents Elvis" T.V. Special. It first aired on Dec. 3rd, 1968 on the N.B.C. network.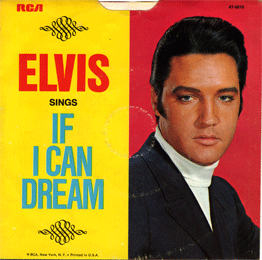 The huge hit single, "If I Can Dream" was a reported "World Wide Million Seller". Elvis' first since "Crying In The Chapel" from 1965. The single enter Billboard's Hot-100 chart on Nov. 30th, 1968, peaked at No. 12 and stayed on the chart for 13 weeks.
Now I'd like to share with you all how well it did here in the San Francisco Bay Area.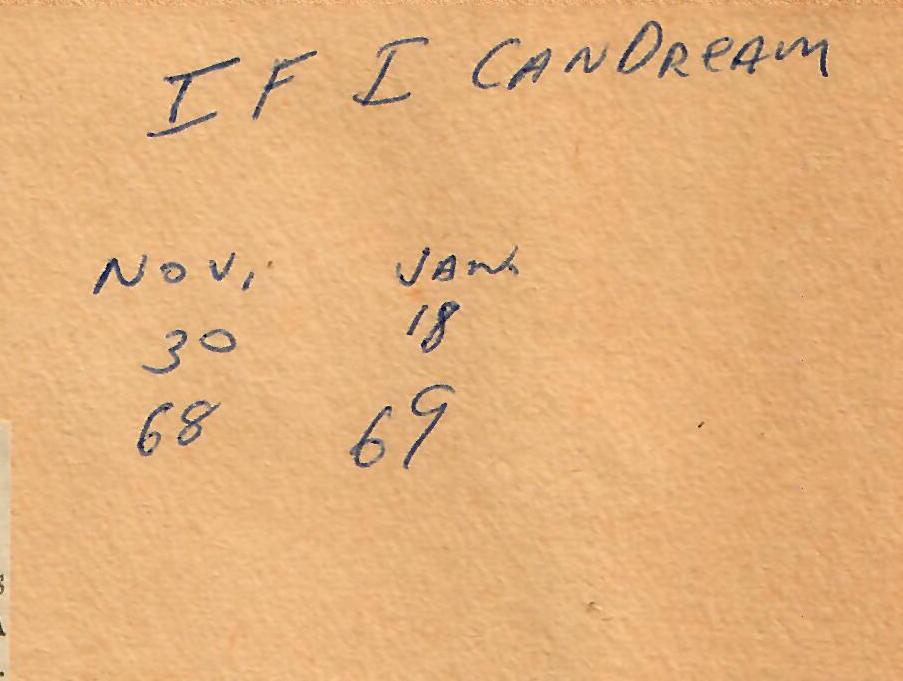 Now these clippings are all from my scrapbook. This is my handwriting, ah, at the age of 13! It would appear that it charted in San Francisco on local KYA 1260 A.M. Unlike the national charts, "If I Can Dream" charted for 8 weeks. It did, however make the Top-10 here.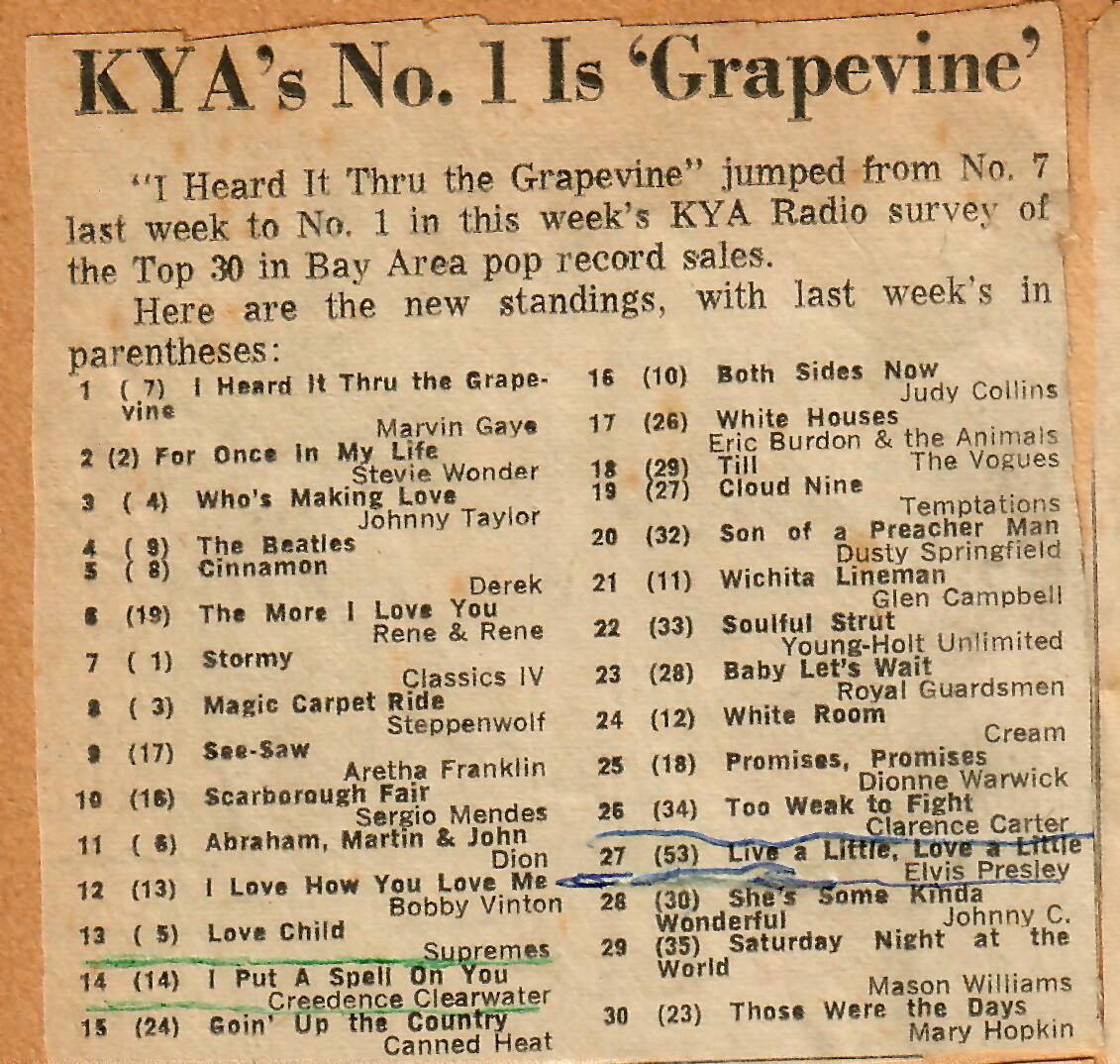 I made this clippings as large as I could so you could all read what was actually printed. Note, in the single's first week, it's listed as "Live A Little, Love A Little". Now the "B" side of the single, "Edge Of Reality", was from that movie but was NOT the title of the song on either side of the record!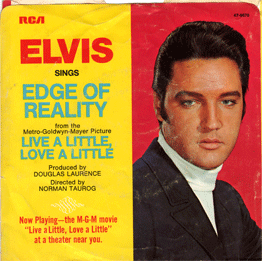 "Edge Of Reality" charted to No. 112 on Billboard's "Bubbling Under" Chart. These are singles rated just under the Hot-100. It was an unusually GREAT song for a "Movie" song, consider the swill from recent years. It also made it to No. 2 on the Australian Charts.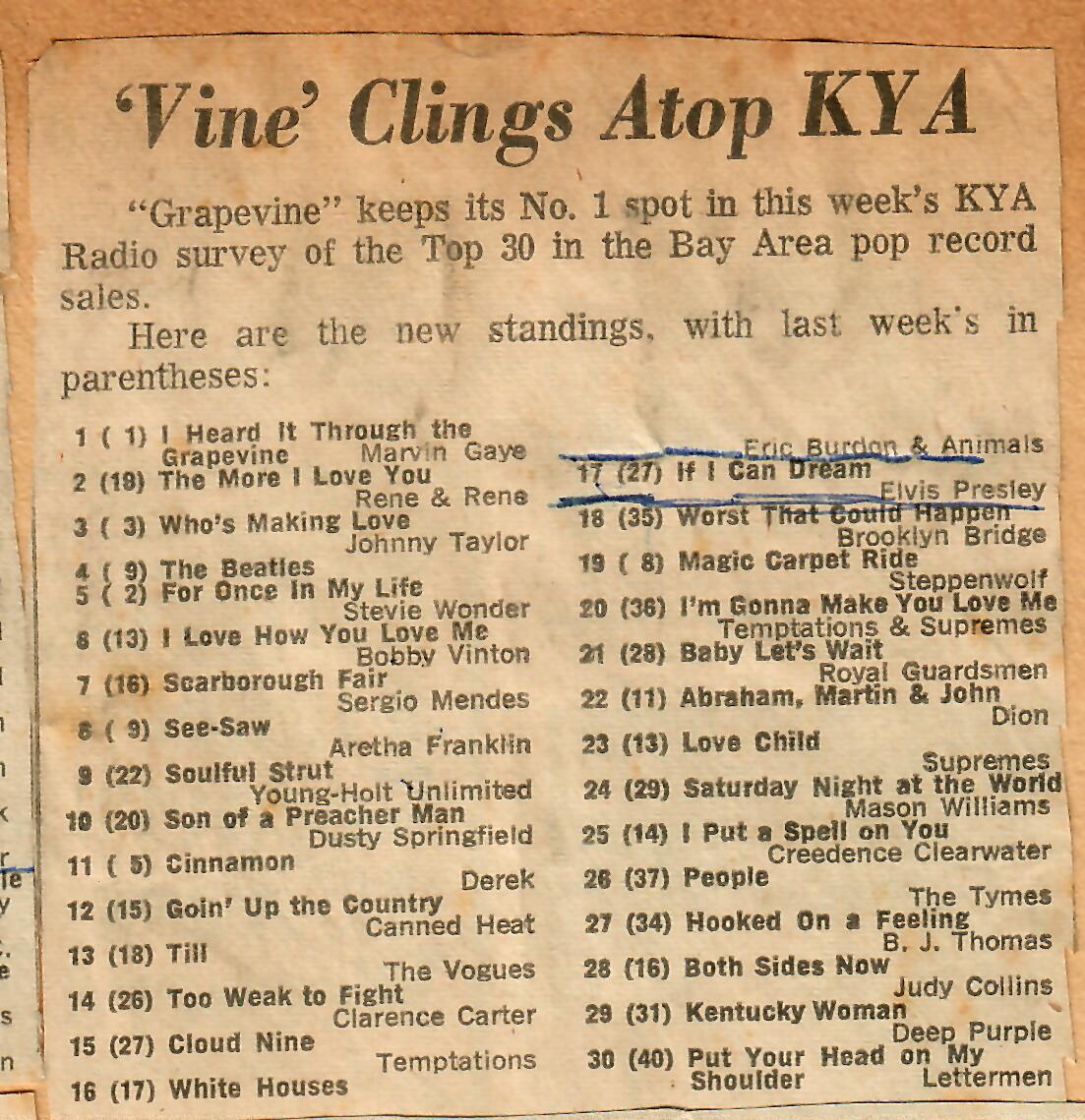 The Top-30 was printed in the Saturday editions of the San Francisco Examiner however, it was not every week. Dunno weather KYA did or didn't send it over of if the Examiner ran our of space. So, even though all of these clippings are chronologically in order, they are tough to follow.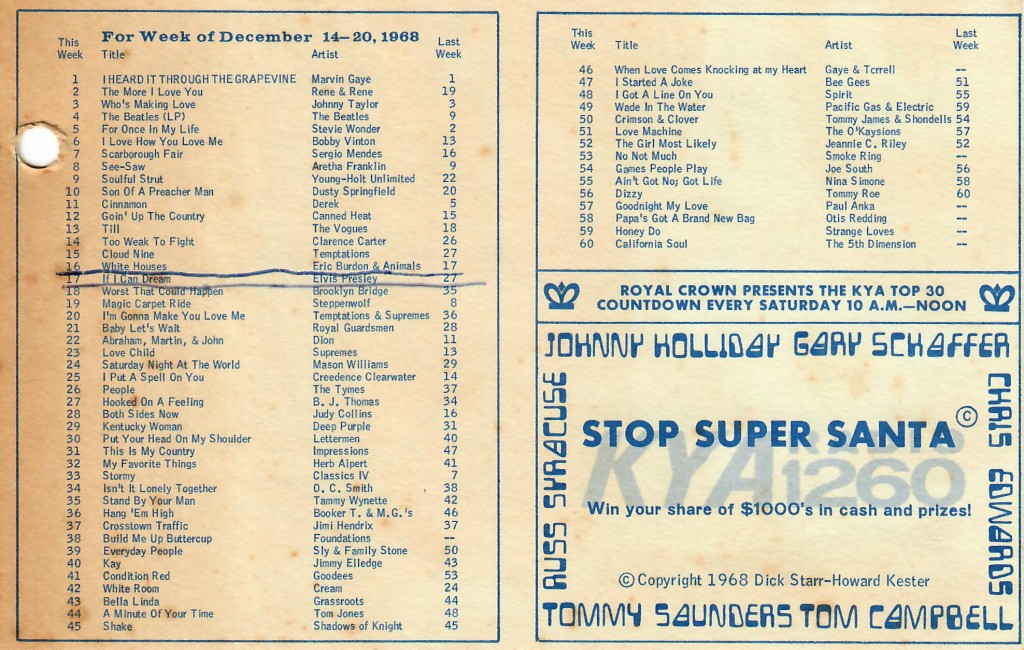 Here is an example of KYA's Top-60. These were little 3×5 cards that you could pick up at the local record store for FREE! Rival K.F.R.C. 610 A.M. had similar though not same promo stuff. They'd be piled high on the counter and you could take as many as you wanted!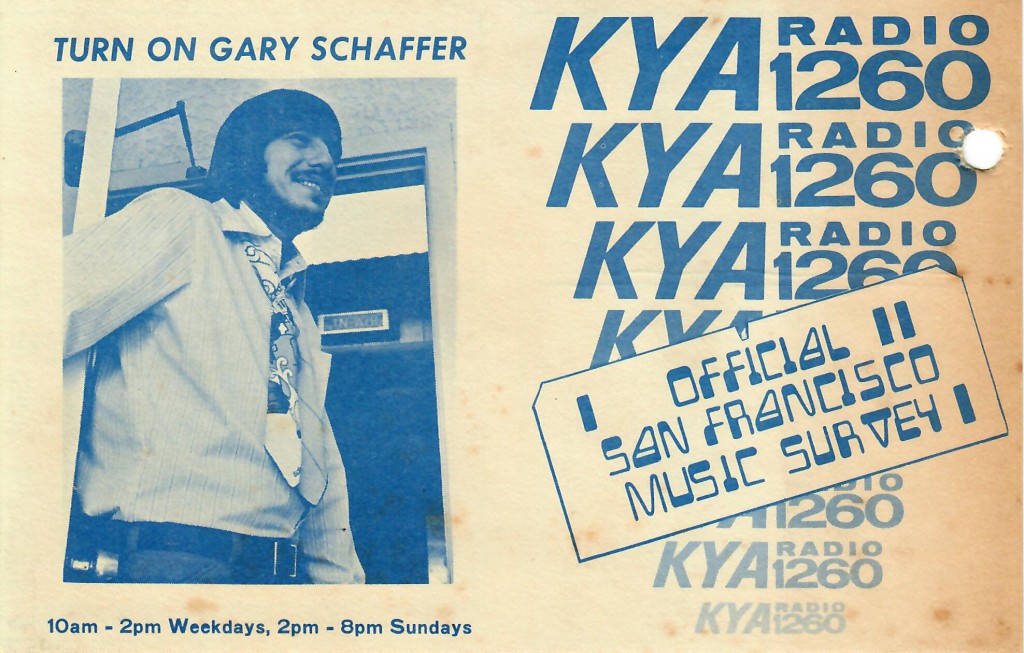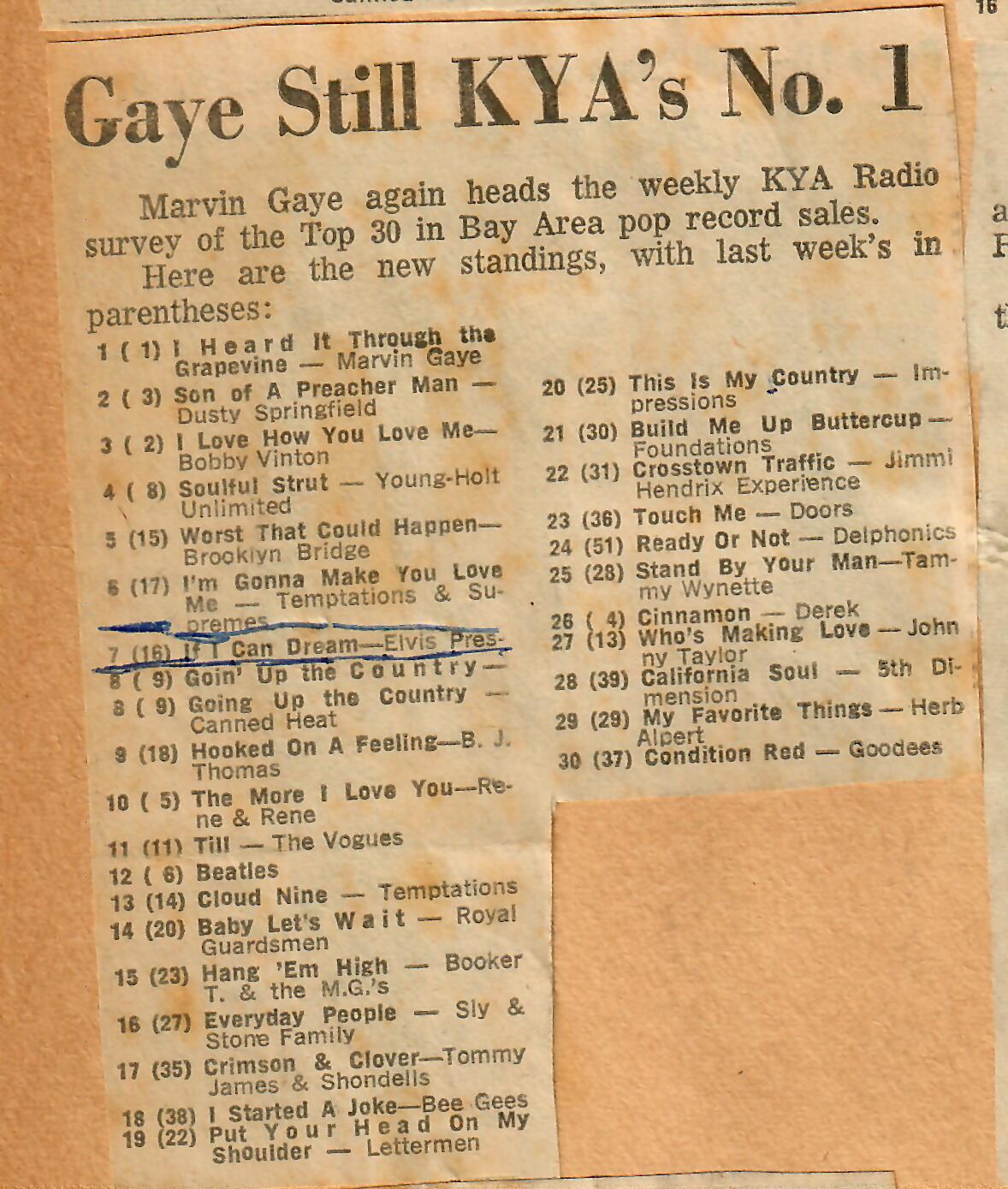 I just really LOVE looking at all of the other hit singles that were on the charts at the same time! At No. 12, down from No. 6 is "Beatles". For all of you youngin's this is referring to the Beatles "Whie Album". Many radio stations played ALL of the tracks off of the double L.P. and charted the whole thing as if it were a single.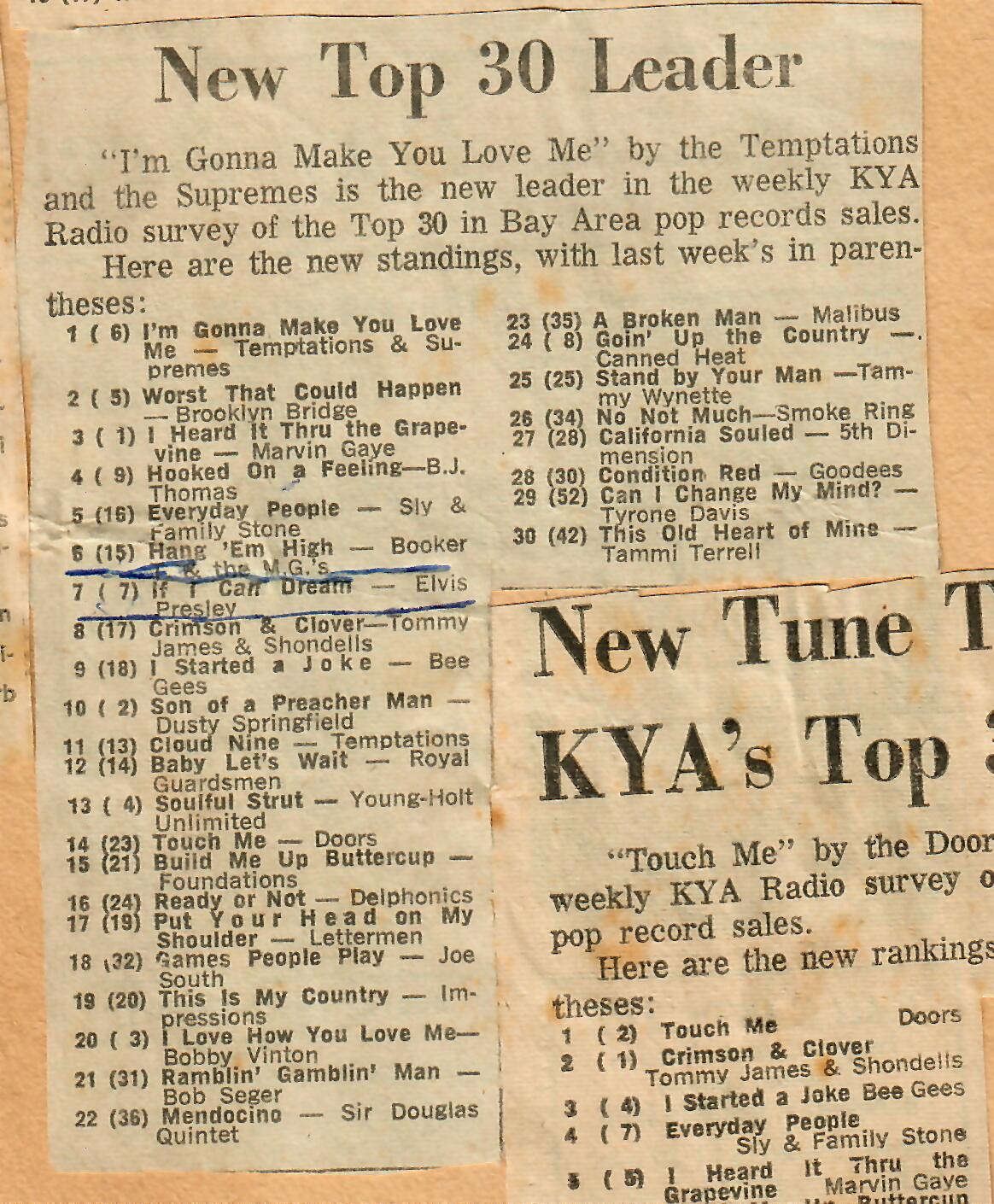 Always LOVED "Ramblin' Gamblin' Man" by Bob Seger (at No. 21 here), though no one knew who he was on the West Coast until "Night Moves" came out in 1976. Note, one of the backing vocalists on this single is Glenn Frey later to become a founding member of a band called The Eagles!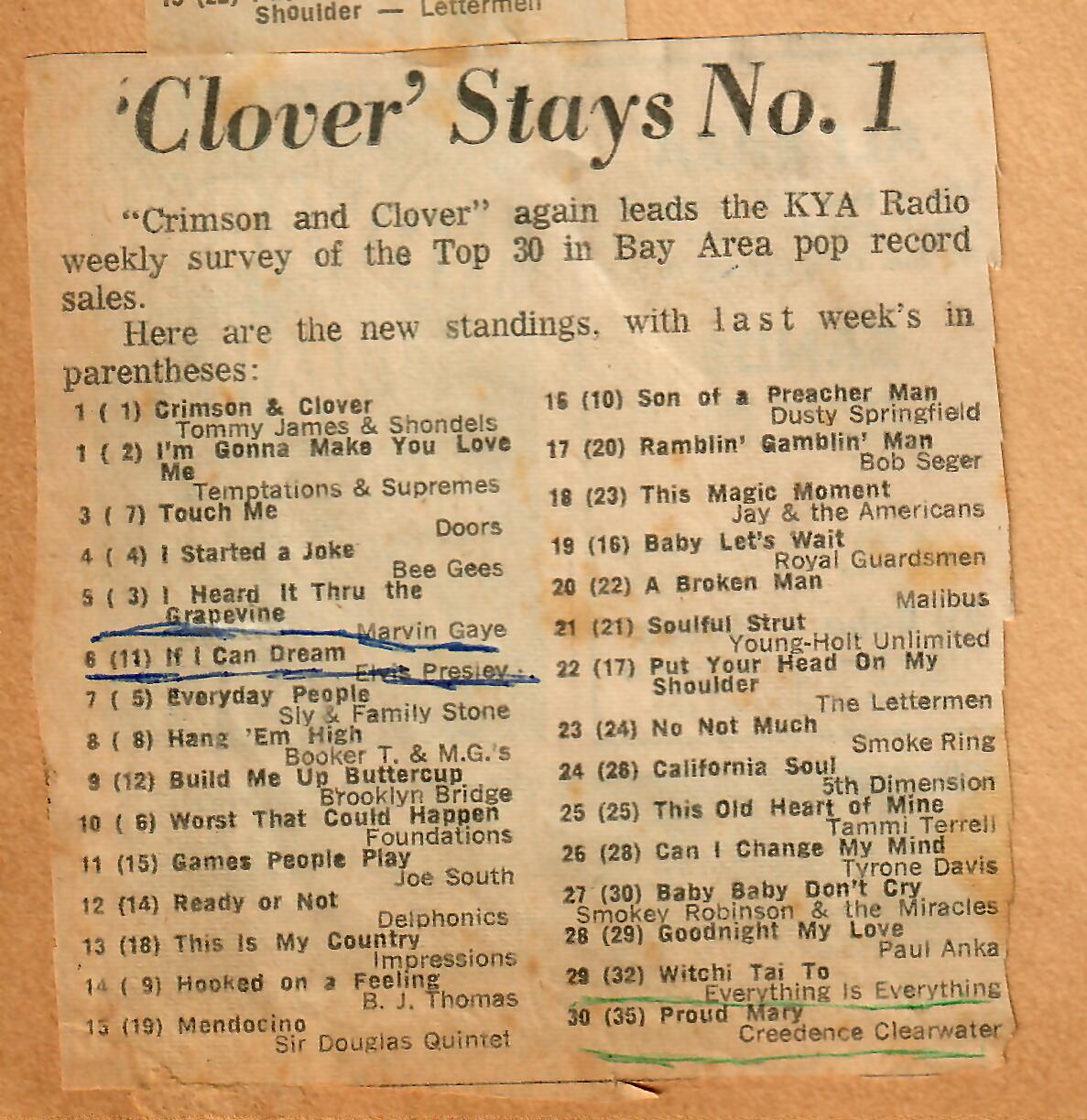 "If I Can Dream" peaked at No. 6 here in San Francisco. For what it's worth, that's 6 point/placements higher than the national chart.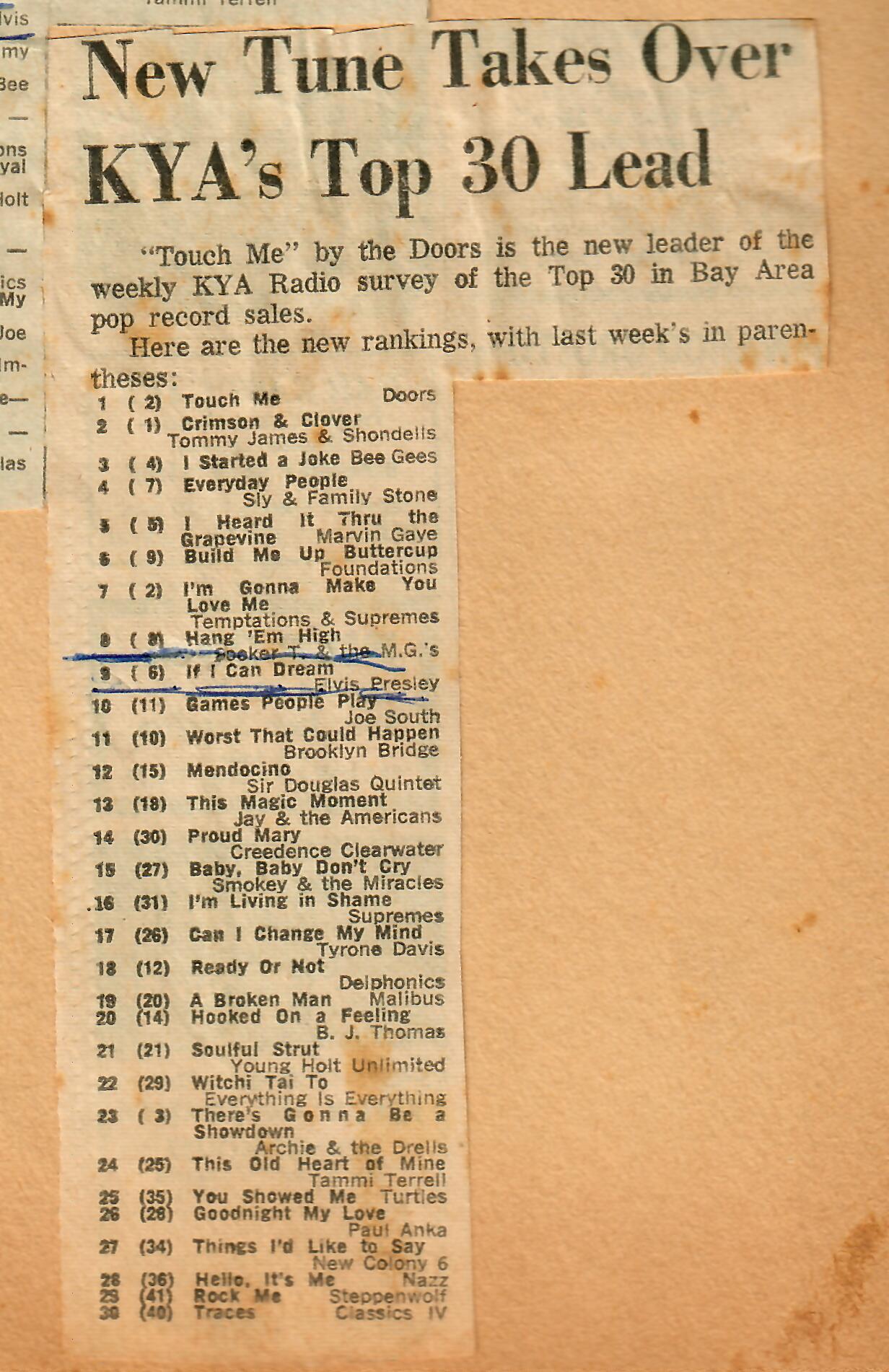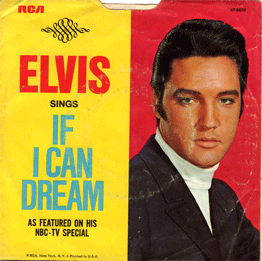 While still on the charts, but after the T.V. Show aired on Dec. 3rd, R.C.A. Victor issues the record with a slightly new picture sleeve. Note it now says "As Featured In His NBC-TV Special". Nowhere does it now use the word "Singer", the original sponsor. The phrase "Comeback" was also NEVER used until the 1980's when videos were finally released of the show.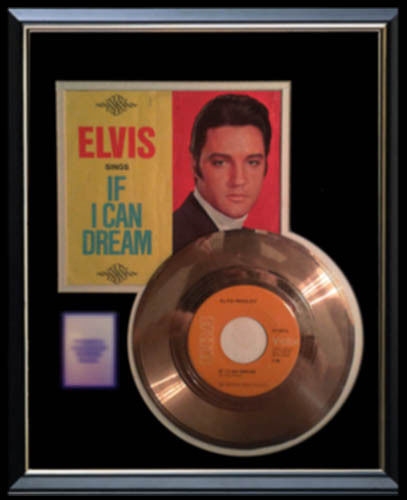 Now R.C.A. had stated that "If I Can Dream" was a "World Wide" Million Seller but there is no gold record at Graceland for it. Why? Gold records, at that time, were issued by the R.I.A.A. (The Recording Industry Association of America". They only issued the awards for "Domestic" sales. While I'm sure it sold in the hundreds of thousands of copies here in the states, foreign sales had to be added in to make the claim. What is shown here is an award one can buy on line.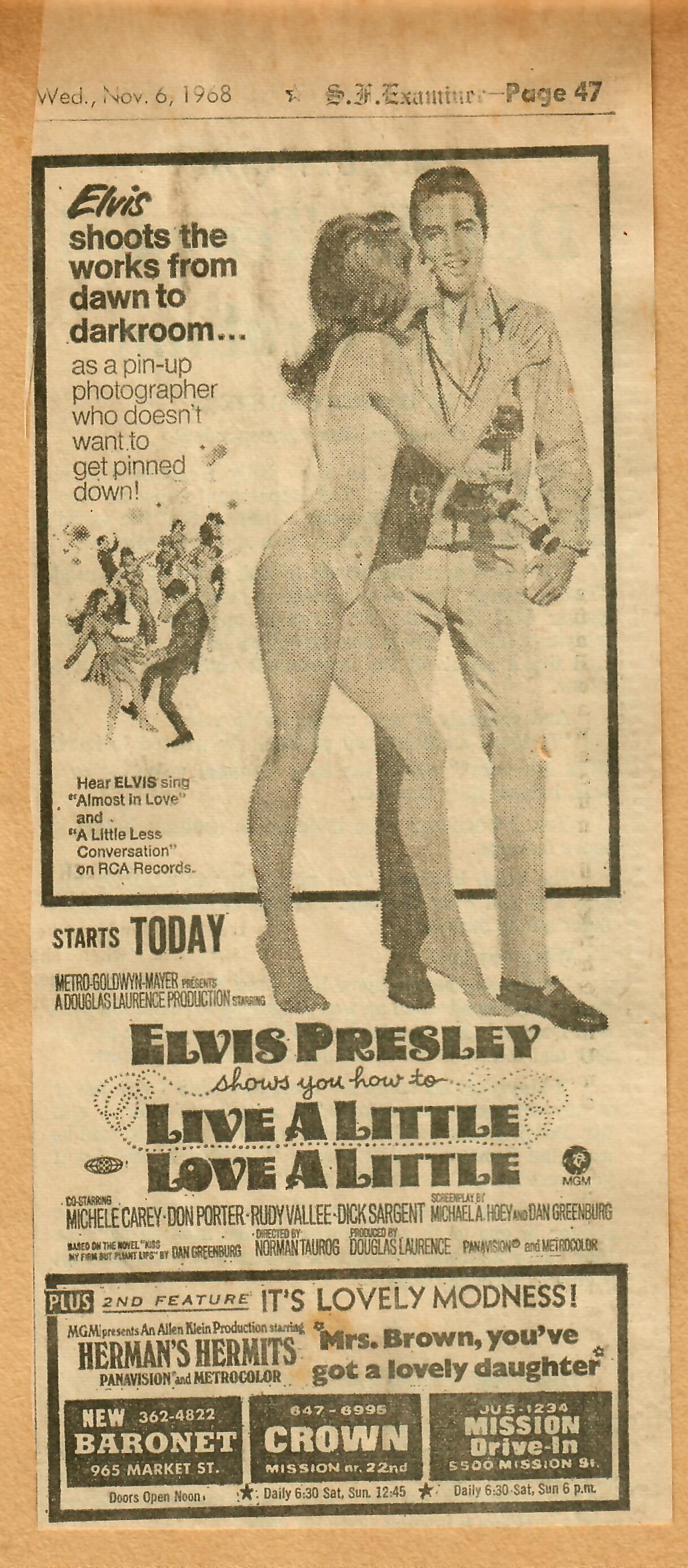 Mean while, in an other reality, Presley had yet another movie out at the same time as the T.V. Special. As you can see in the interview posted last week, "Singer Presents Elvis, 50th Anniversary Pt.1", Presley stated he wanted more serious movies and less songs. Well "Live a Little & Love A Little" was just that. The songs were surprisingly good and the movie had a bedroom scene in it, inferring the Presley and his leading lady had sex….ah…in the movie.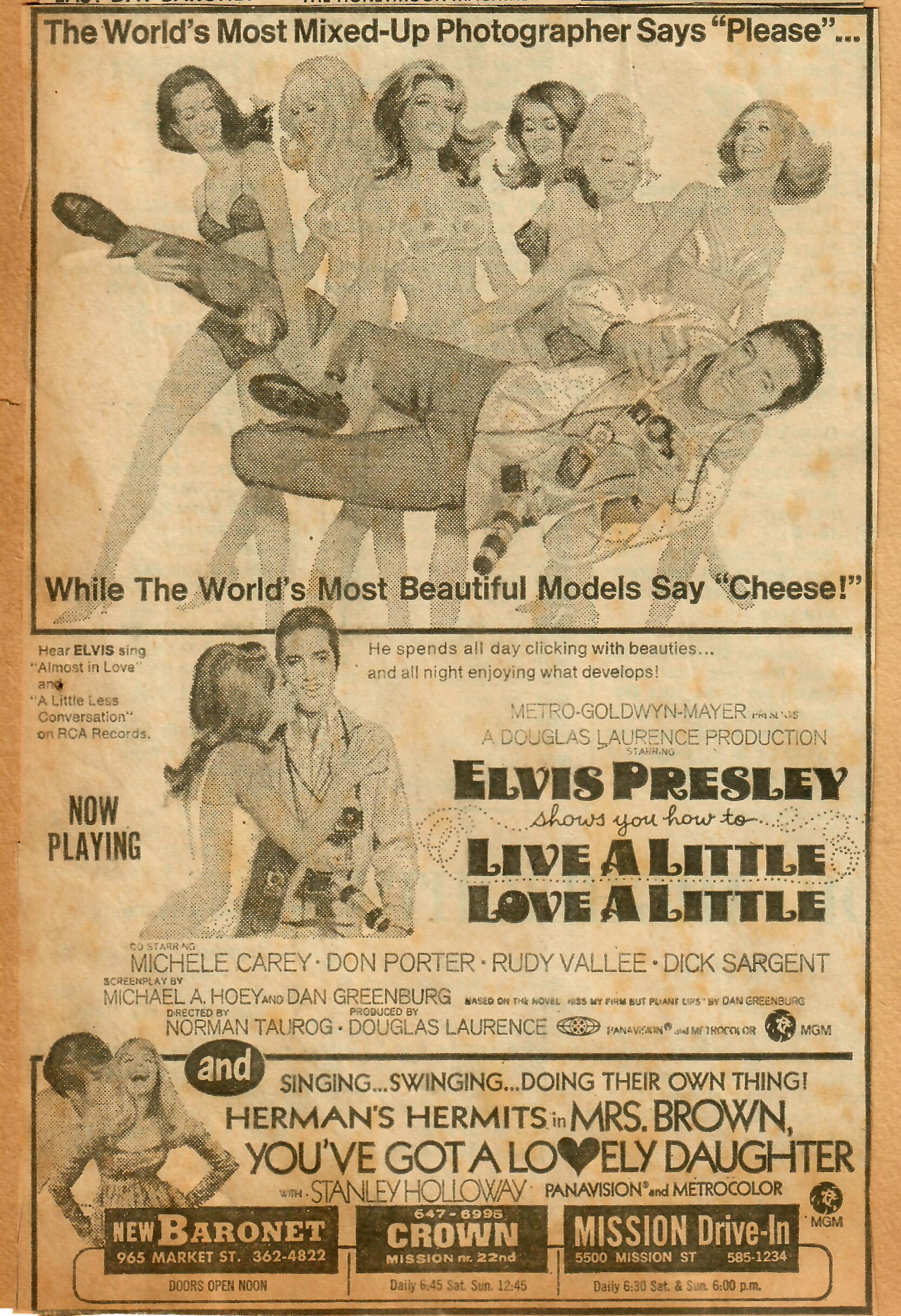 This movie bombed however suffering that fate created from pervious years of horrible flicks like "Girl happy", "Frankie & Johnny", "Paradise Hawaiian Style", "Stay Away Joe" and the list goes on. Such "Memorable" songs that were featured, were manure like "Do The Clam", "Dominic", "Yoga Is As Yoga Does", "There's No Room To Rumba In A Sports Car", "The Walls Have Ears", "The Song Of The Shrimp", "Queenie Whinnies' Papaya", "Petunia, The Gardener's Daughter". I can't go on.
Even I, to this day, have NEVER seen this movie for all the reasons stated above. I've read about it & bought the 45 R.P.M. single, but have never seen it.
Thus while his recording career was reemerging with a TON of artistic legitimacy, his film career was going in the tragically, opposite direction.
Other related "Lounge" pages you might find interesting are:
"Singer Presents Elvis, 50th Anniversary Pt. 1"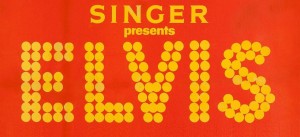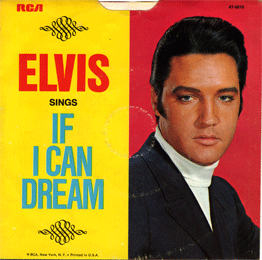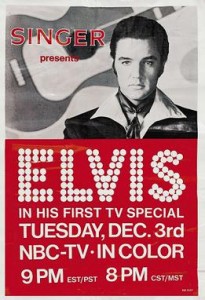 I'll plant you now and dig you later
Dave