In 1963, my Mom took me to see my first Elvis Presley movie called "Fun In Acapulco" (1963). About a year later, we went to see "Roustabout" (1964). Sometime after that I saw "Flaming Star" on T.V. originally released in 1960.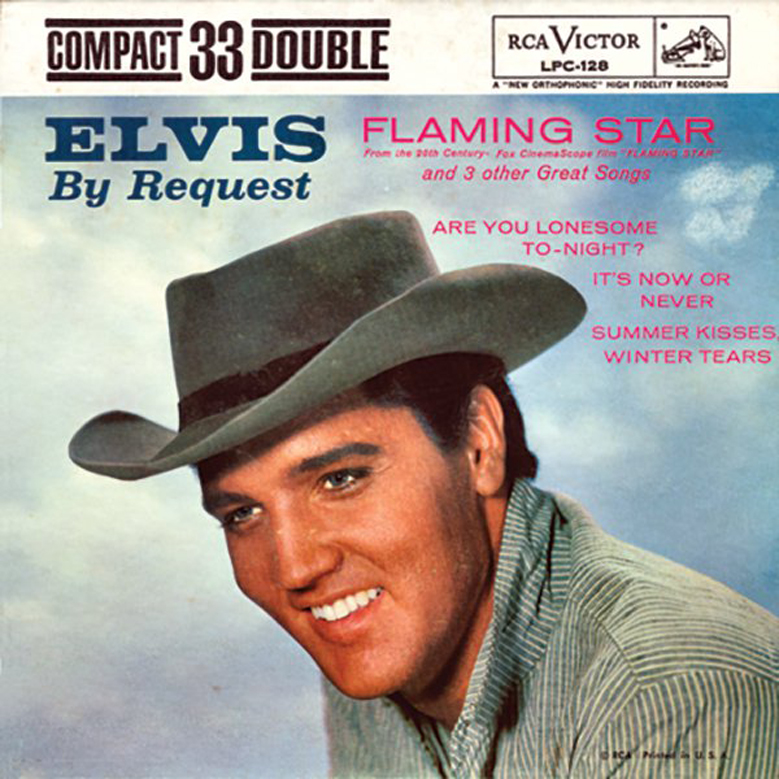 Just as I had heard there was a HUGE difference between songs like "One Night" and "There's No Room To Rumba in A Sports Car", so too was a HUGE difference between "Flaming Star" and "Roustabout"."Flaming Star" is my second favorite Presley film behind "King Creole". I LOVED the song "Flaming Star" too, but could NOT find it anywhere.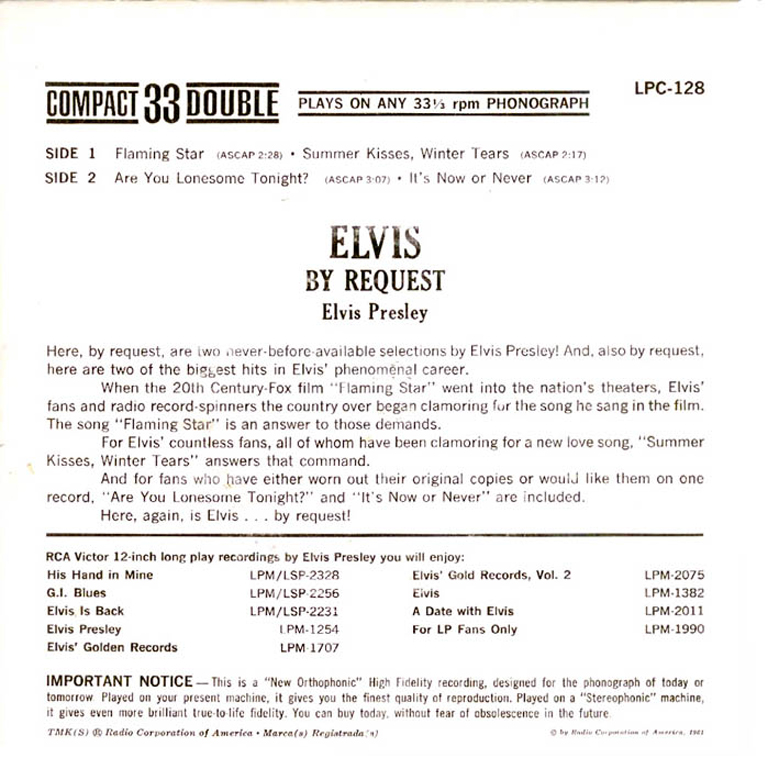 Back in the 60's and early '70's you could special order records that were not currently in stock. I had done this several times as R.C.A. would reproduce and keep in stock Albums, weather they were E.P. (Extended Play, 7 inch, 45 R.P.M.) or L.P. (Long Play, 12 inch, 33 1/3 R.P.M.). You would pretty much get the original covers, unless that had been slightly changed to the Gold Standard Series, but the record itself would have the then current label be it "Dog On Side" or the Orange label of the late '60's early 70's.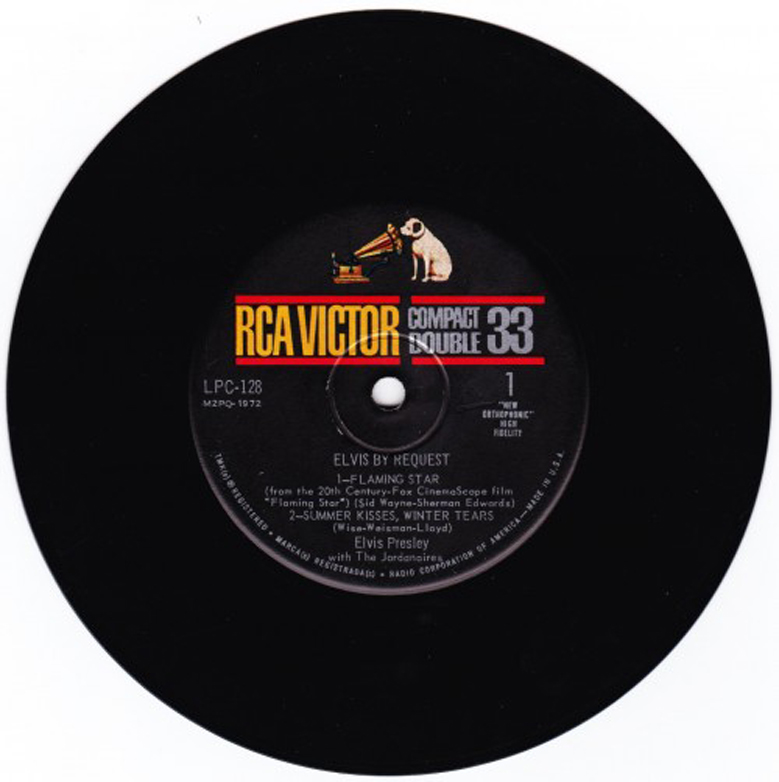 The "Flaming Star" E.P. was one that was NOT kept in stock and you could NOT back order it. The issue probably was, that this E.P., along with five Presley singles in 1961-1962, were on an experimental format. They were 7 inch but instead of being 45 R.P.M. they were 33 1/3 R.P.M. like an L.P.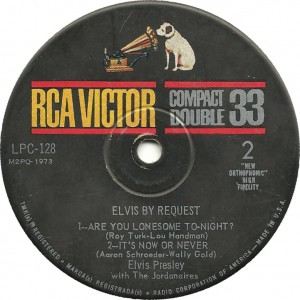 The issue, at least in our household, was that if you stacked a bunch of 7 inch 45 R.P.M. Singles on the turntable and accidentally mixed in the experimental 33 1/3 R.P.M. you could hear 1 or 2 songs at the correct speed but then a 33 1/3 record would play at the slower speed and one had to rush to the turntable to change the speed. Then one would have to rush back to re-change the speed for the rest of the 45's.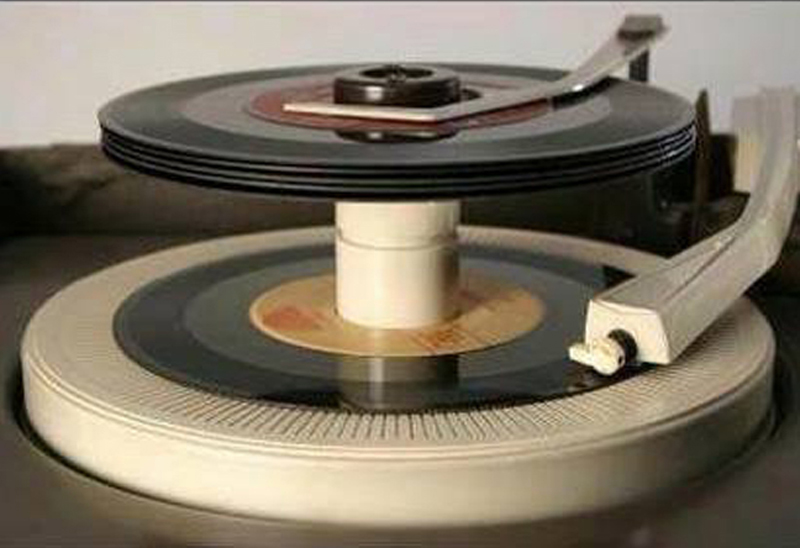 Here's a photo of how it would look with the automatic adaptor. One might say this was a prehistoric "Mix-Tape". The concept of continuous music is the same but the different speed records defeated the "automaticness" about the situation. Thus this format of 7 inch 33 1/3 R.P.M. records did not last long. STILL, I really wanted the song "Flaming Star" and for several years, which was an eternity for a 10-11-12-13 year old kid, it was not available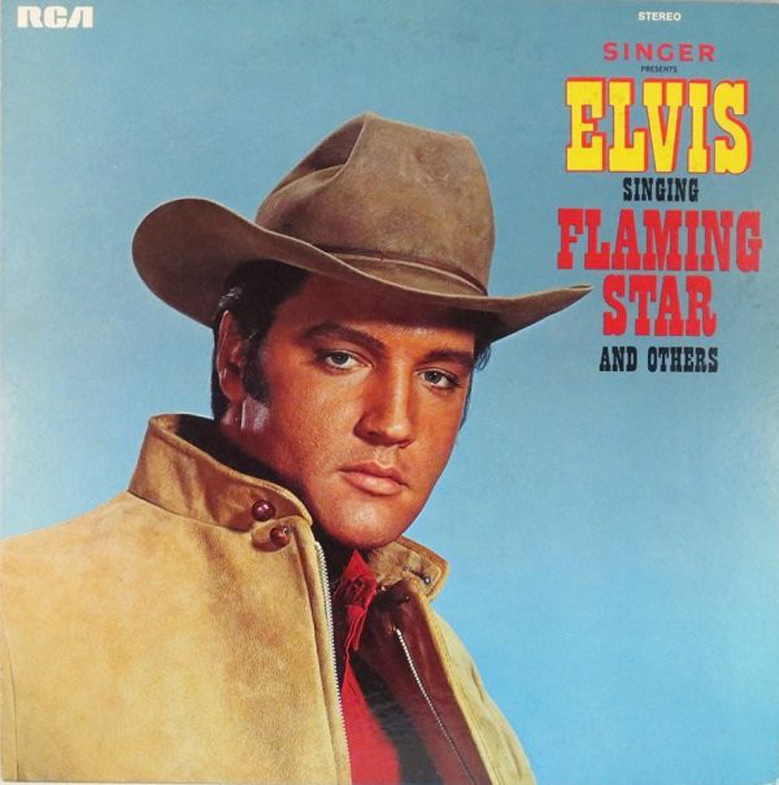 Now along with being totally STOKED about an Elvis T.V. Special comes this special product to PLUG it too! My sister even said "After all this time, you finally got the song. You are stubborn but it paid off.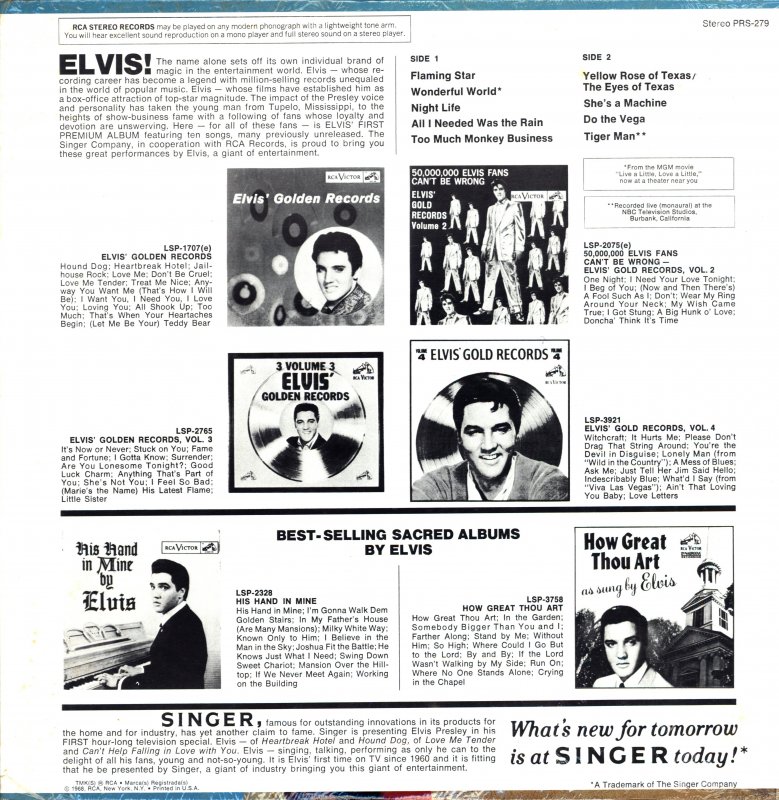 Like a LOT of the promotion material, the four volumes of Elvis' Gold records and the two Gospel L.P.s were plugged.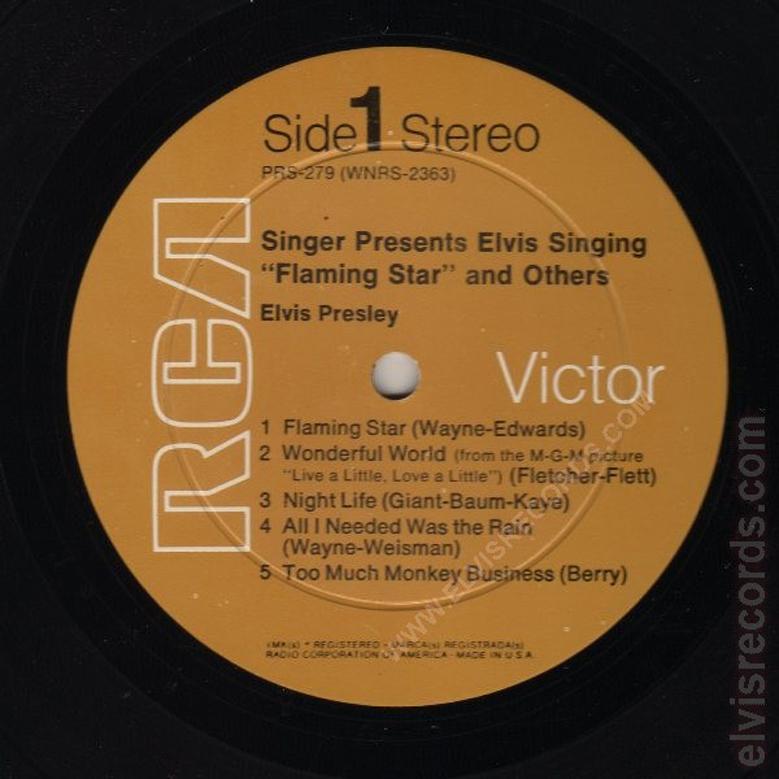 The label was a Tan version of the then current "New" R.C.A. label.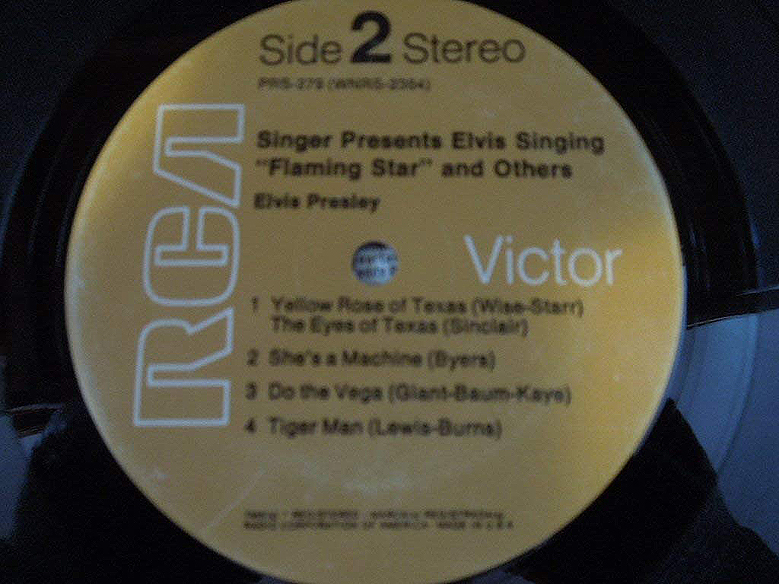 For me artistically, this was a "Hit or Miss" L.P. much like "Elvis For Everyone" (1965). There was a lot of previously unreleased stuff from his films but some gems within. Obviously I dig "Flaming Star", then came the cover of Chuck Berry's "Too Much Monkey Business" with Jerry Reed on guitar.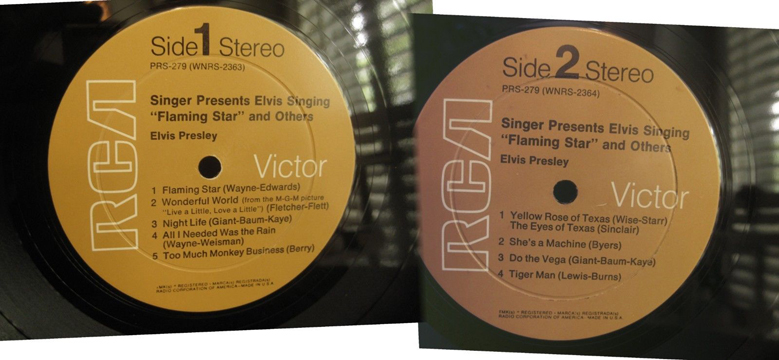 Finally, the last song "Tiger Man" RAW ROCK 'n ROLL, girls screaming, it was just like my favorite stuff from the 1950's. At the time, I had NO Idea that this was recorded during the taping of the special I had had not yet seen. I also wouldn't know this until the special was re-run for the first time in August of 1969 when "Tiger Man" would replace "Blue Christmas".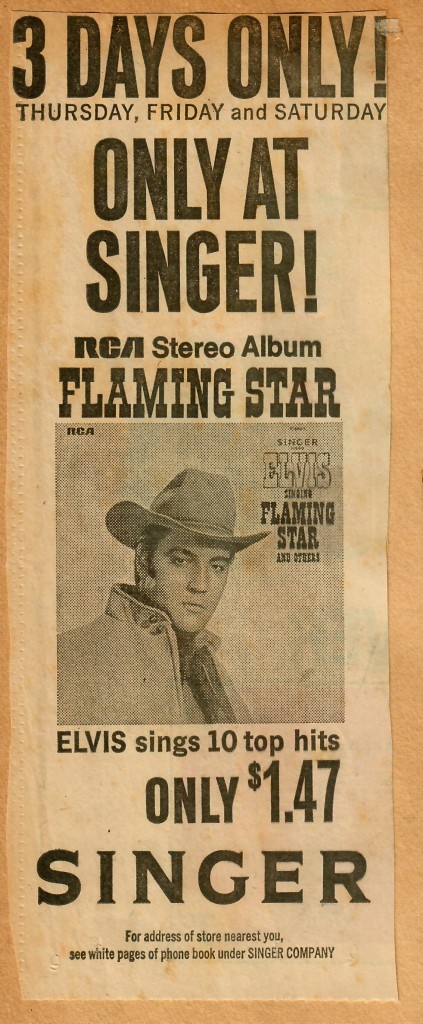 Here's an add for the record from the San Francisco Examiner.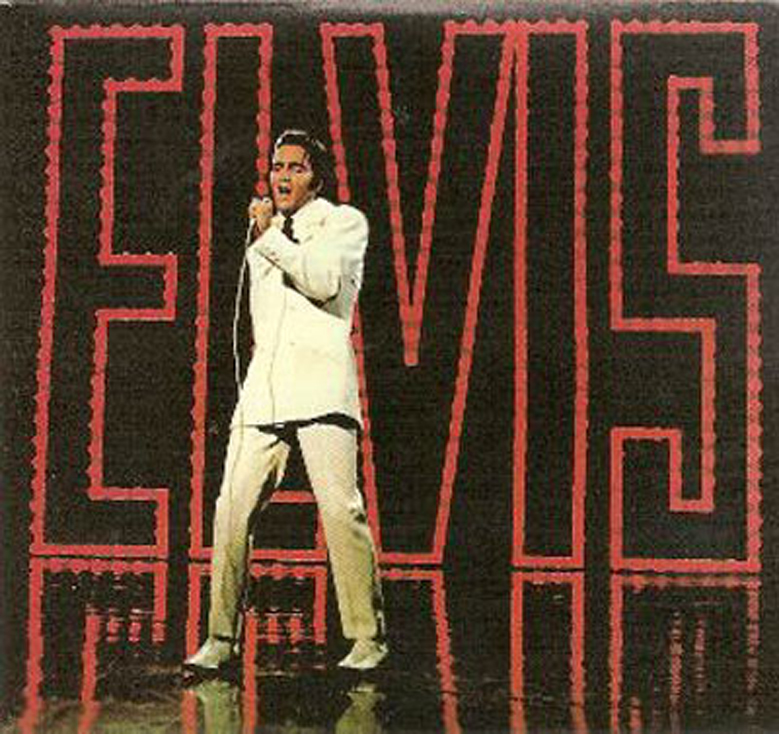 The soundtrack for the T.V. Special was released after it showed on N.B.C.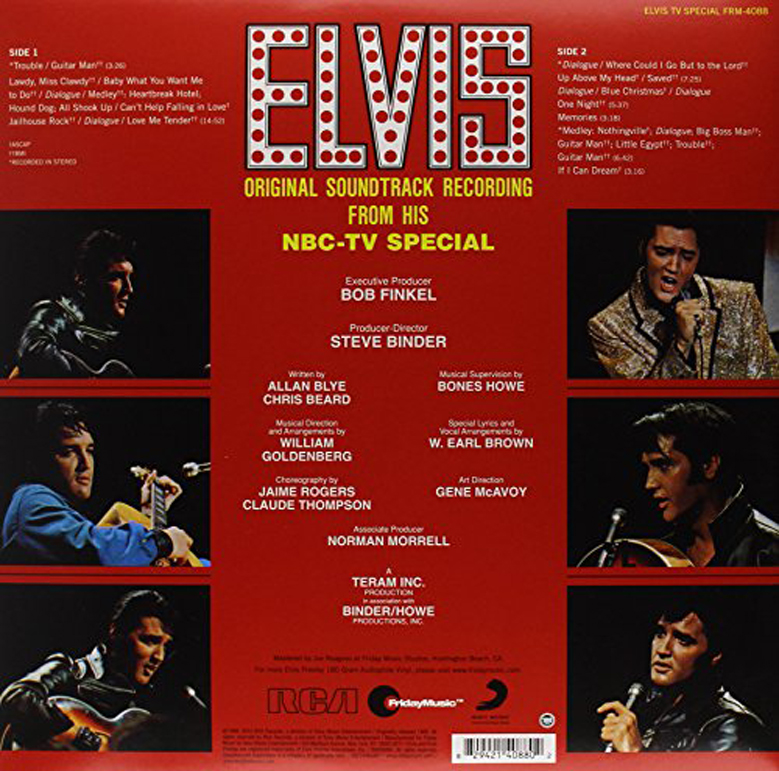 The show first aired on Dec. 3rd, 1968. The L.P. hit the charts Dec. 21st, 1968. I'm sure it was a Christmas gift for a LOT of us fans. It was for me!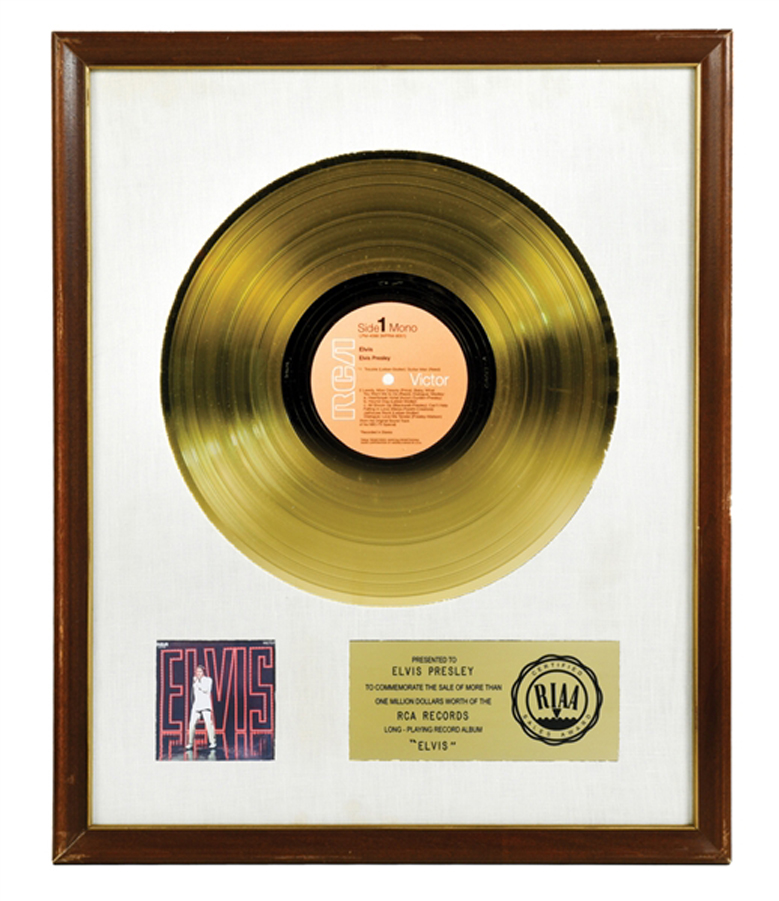 The L.P. peaked at No. 8 on Billboards L.P. chart and was certified Gold by the R.I.A.A. (Recording Industry Association of America).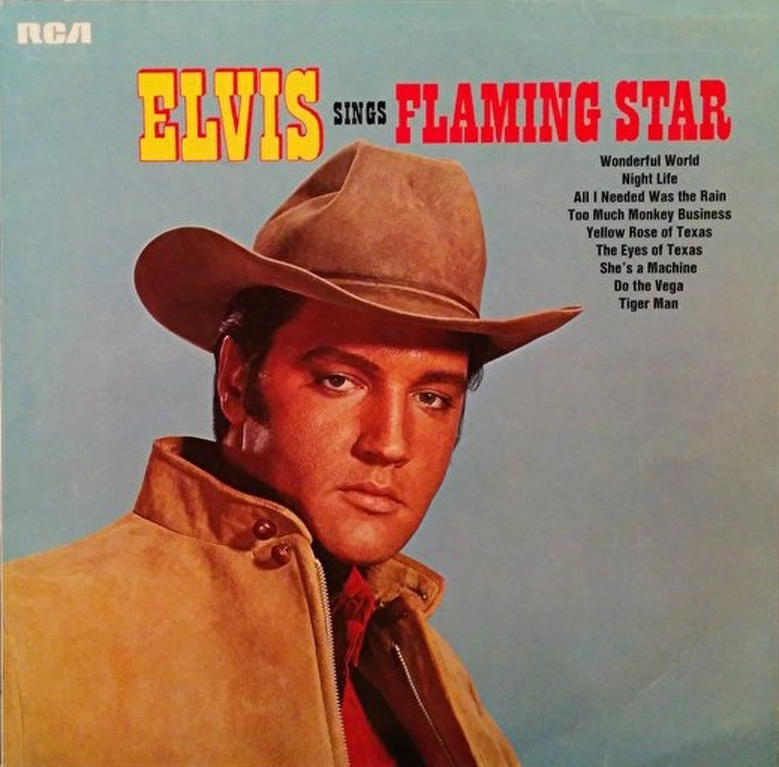 In early 1969 the limited edition of "Singer Presents Elvis Singing Flaming Star" is replaced in the market with slightly different art work and is Presley's first L.P. on the R.C.A. Camden label. This label was used through out the years to rerelease stuff by established artist and sell the recordings at a budget price.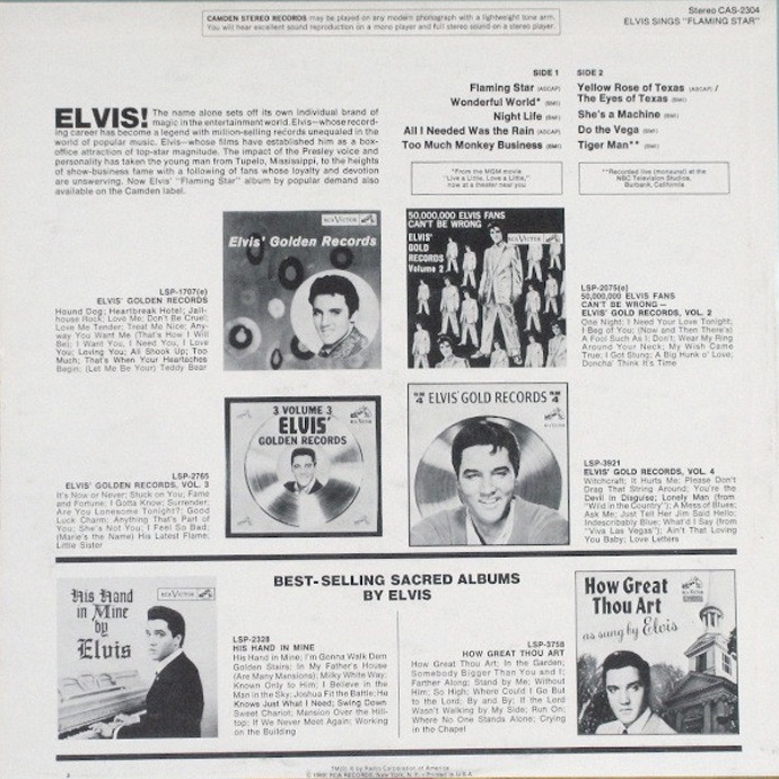 Gone were the adds for the Singer Sewing centers, the sponsor of the T.V. Show.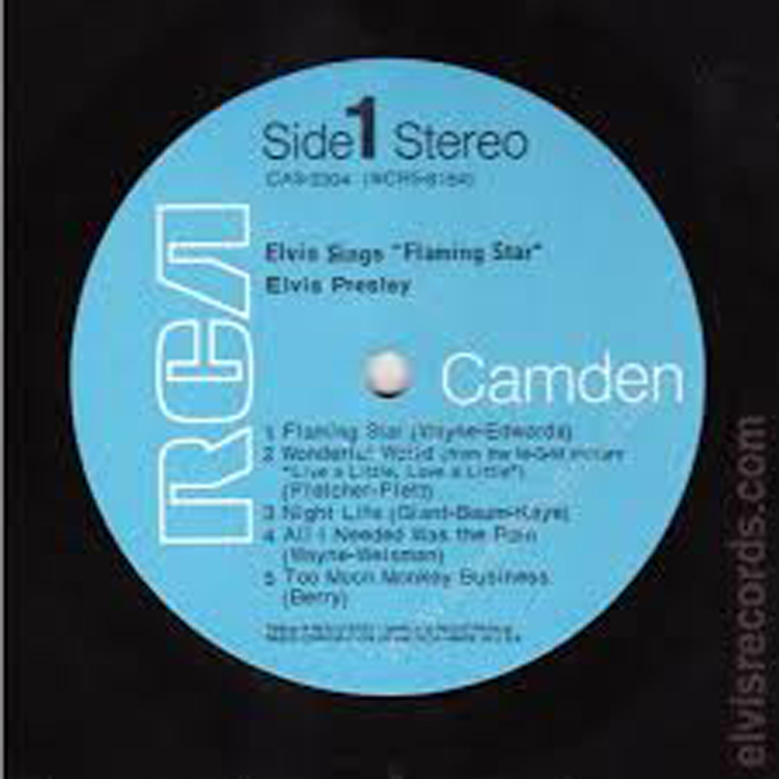 Light Blue / Turquoise is my favorite color. So with that I bought this L.P. as well.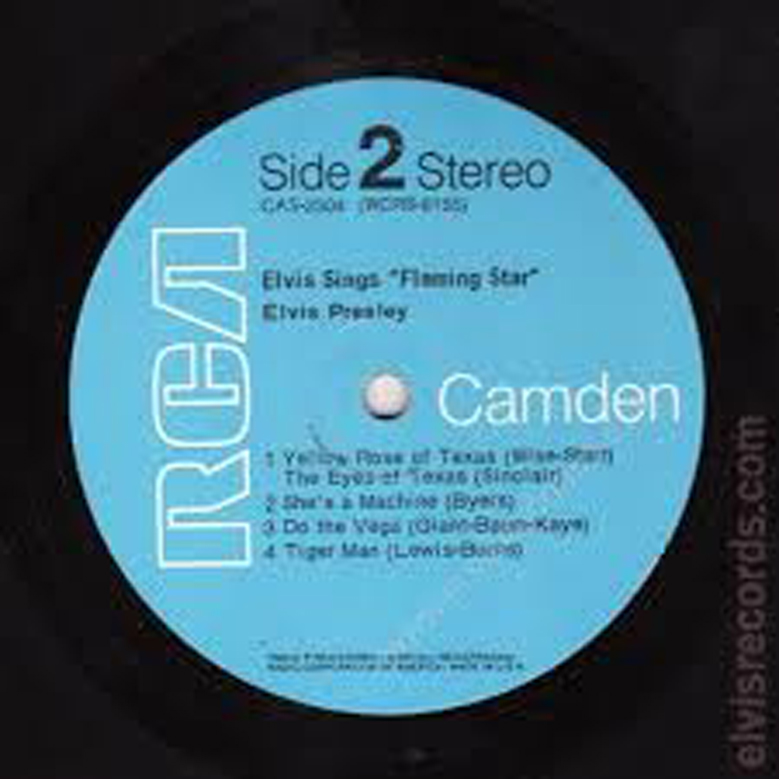 The L.P. made Billboard's chart April 19th, 1969 and peaked at No. 96.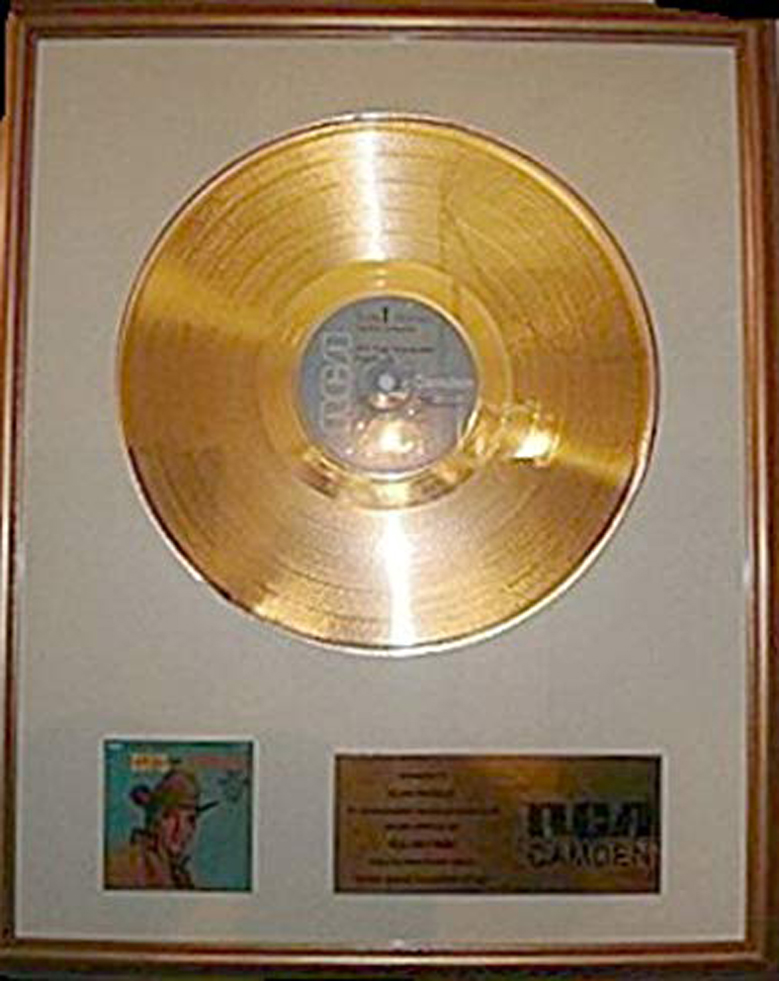 This L.P. was issued a Gold record award but not from the R.I.A.A. This is an "In House" award. This refers to the fact the the record label awarded it without an audit by the R.I.A.A. Perhaps R.C.A. was claiming "World Wide" sales and the R.I.A.A. only accepts "accounting on "Domestic" sales.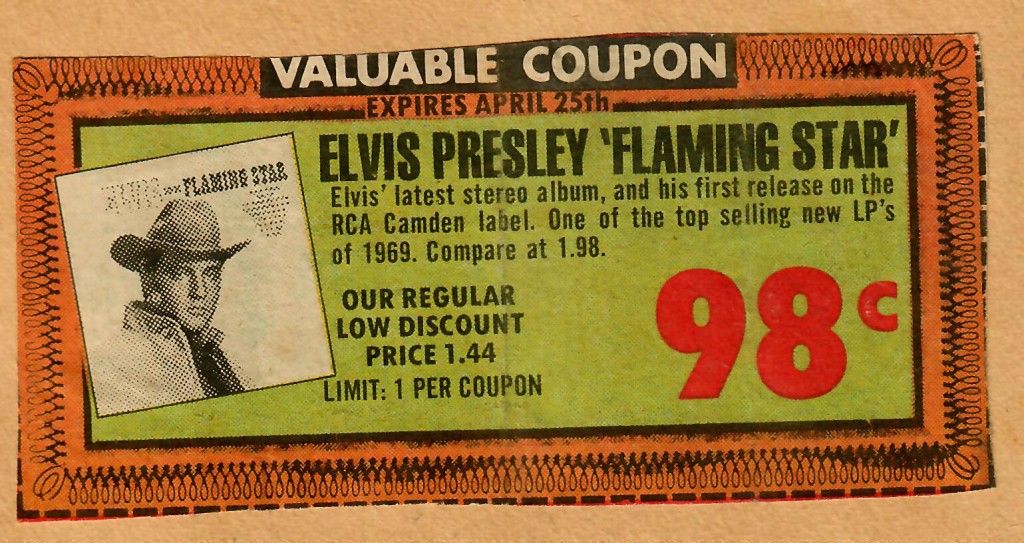 Some more clipping about the L.P. from the San Francisco Examiner. Thank God I found my scrap books.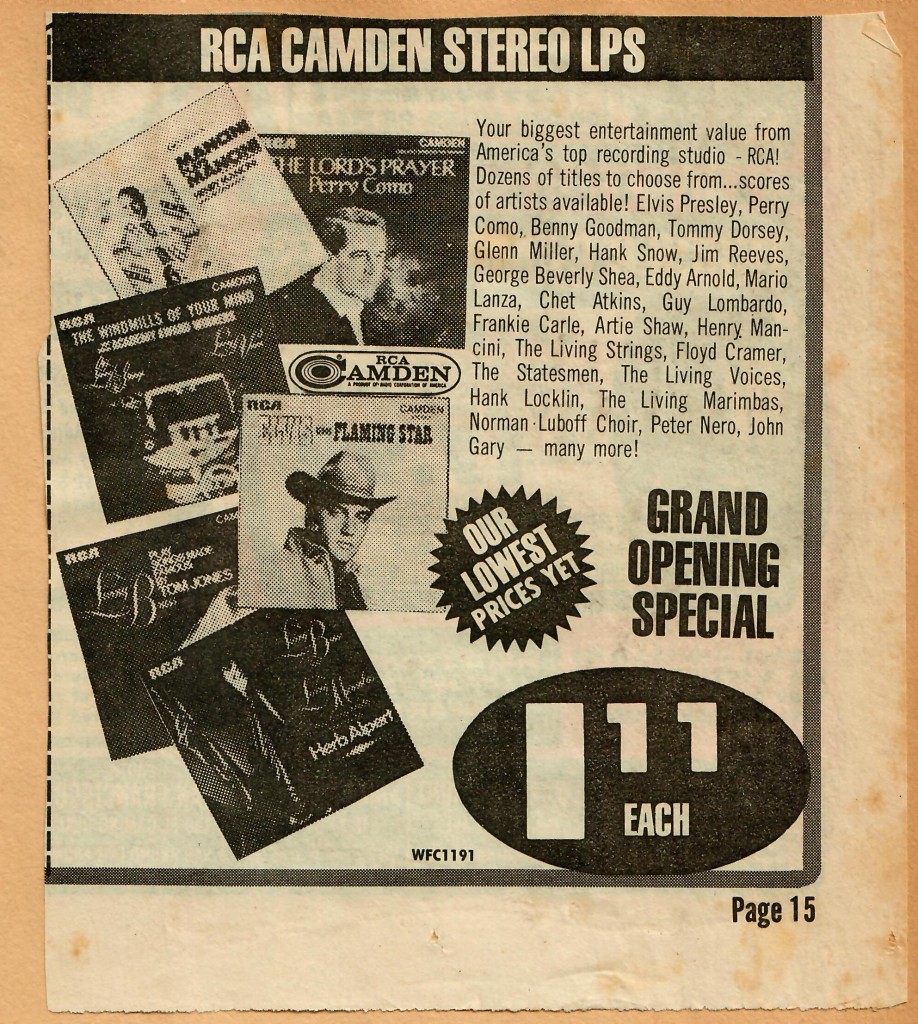 Other related "Lounge" pages you might find interesting are:
"Singer Presents Elvis 50th Anniversary Pt. 3"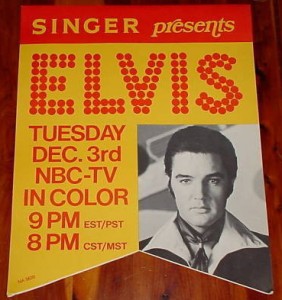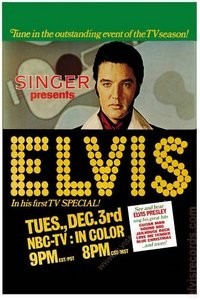 "Singer Presents Elvis, 50th Anniversary Pt. 1"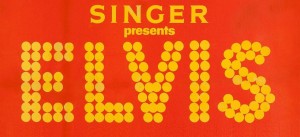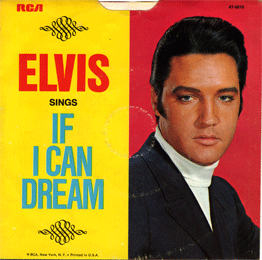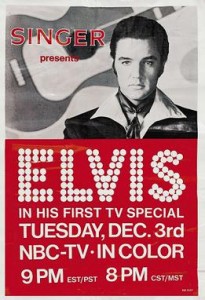 I'll plant you now and dig you later
Dave