About Dave Crimmen
I am a Rock Artist from San Francisco Bay Area!
According to my older sisters, I've been doing this since I was just six months old! Inspired by the legends – Elvis Presley, Little Richard and Chuck Berry – I set out to emulate the feel good, rock out vibes that make hips shake and heads bop. I love my music. I write my music for the girls, the fans, and the fellow lovers of classic rock.
Our bread & butter is Rock 'n Roll from the late 50's to the early 80's with original music and cover tunes. We generally play Rockabilly, Surf Rock, Doo-Wop and Classic Rock in our repertoire of over 1,000 songs. We've done hundreds and hundreds of gigs at bars, parties, and beyond. We've been booked for over 250 shows in 2015 alone and are looking forward to rocking out at your next event. Book the band!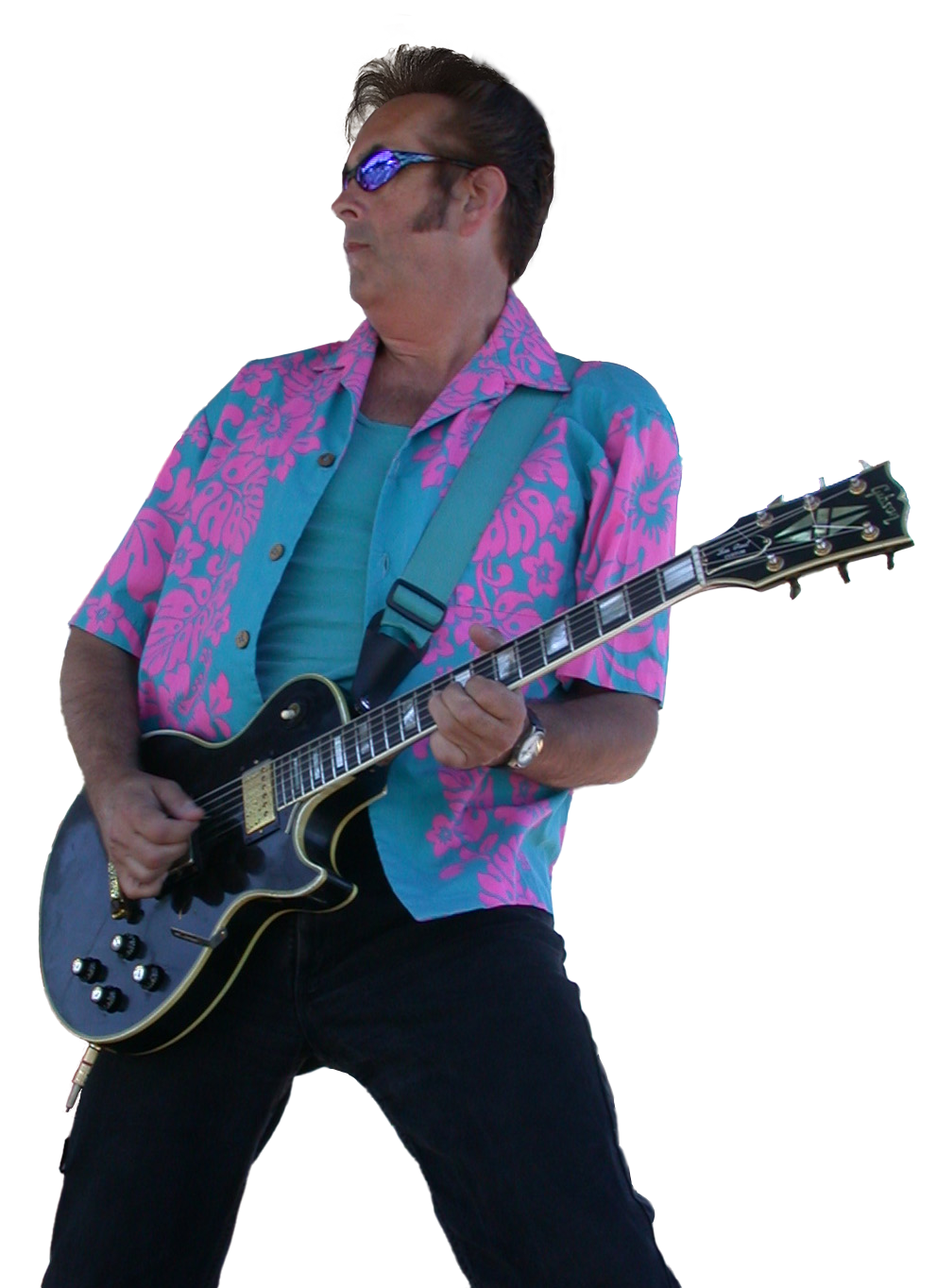 Artist Bio
Dave Crimmen – Vocals, Guitar, Songwriter.
Dave Crimmen is a Veteran West Coast Entertainer who has written and performed songs you may have heard in major motion pictures, like "The Game" (starring Michael Douglas and Sean Penn), and Network TV Shows like "Cold Case" (CBS-TV), "Dateline" (NBC-TV), and "Melrose Place" (Fox-TV).
Dave's music is heavily influenced by Rock 'n Roll from the 1950s and early 1960s and musical greats like Elvis Presley and Little Richard. Over the years, he has shared the stage with stars like Elvin Bishop, Greg Allman, James Cotton & Coco Taylor.
Dave's original tracks have enjoyed much success. Just recently, Bill Haley's Original Comets recorded a song that Dave wrote for their current CD. Three of Dave's solo albums/CDs entered the Top 10 at College Radio on the CMJ NATIONAL Charts. Since 2021, he has also collaborated with three other writers/producers (The Love Avengers) to render several singles. Asked what inspires him, Dave laughed, "That's pretty simple- GIRLS!"
His recent album/CD, "Big Daddy D," features the Jordanaires on two tracks. The Jordanaires are well-known for singing backup for Elvis Presley & Ricky Nelson, among others. Recording with the guys he grew up listening to was a blessing and a dream come true for Dave.
An unexpected fact? Dave is also the author of two books published by Arcadia, "Images Of America Broadmoor Village, CA" & "Daly City Then & Now."
Discography
1993 "Stay With Me Tonight" b/w "Still On My Mind" single 45 R.P.M.
1994 "Just Call It Rock And Roll" CD/Album
1995  "If You Said Yes" b/w "Dancin' Shoes"  single 45 R.P.M.
1996  "The Son Of Sun"  CD/Album
1997  "Let It Rock" b/w/ "Rockabilly Rave" single 45 R.P.M.
1997  "Where He Left Off". CD/Album
2000  "Rockin' Bop Baby" b/w "Been There, Done That" single 45 R.P.M.
2001  "Revved Up" b/w "Careless Kisses". single 45 R.P.M.
2001  "Big Daddy D". CD/Album
2003  "1957 Chevrolet Bel Air" b/w "Del Monico's Theme single 45 R.P.M.
2010  "Full Circle"  Album/CD
2010  "Still On My Mind"  Single Digital
2010 "Del Monico's Theme" Single Digital
2010 "1957 Chevrolet Bel Air" Single Digital
2022  "Comin' Home To You" Single Digital
2022  "The Ghost Of J.R."  E.P./Mini Album Digital
2022  "Come On -The Single Edit" Single Digital
2023 "Revved Up" Single Digital
2023 "Miss Lonely" Single Digital
Acts
Love Avengers! 
A group of myself and three (3) other writers / producers got together and the Love Avengers. We have been putting out singles since 2021.
Music Style
My musical style is based on Rock 'n Roll from the 1950's and early 1960's. I do venture into different musical styles but, basically, That's what I do.
Songwriting
Do you write your own songs? 
Yes!
Why and what's your inspo?, 
Inspiration is pretty simple…..GIRLS! LOL
Notable Moments
Recording with the Jordanaires on my digital single "Come On". To record with the guys that I grew up listening to is a blessing and a dream come true.
Testimonials & Reviews
"Dave Crimmen is one of the most authentic artists the Jordanaires have sung with since Elvis Presley" – Ray Walker of the Jordanaires (Grammy Award Winners, Country Music Hall of Fame Inductees 2001)
"The guy is like a living jukebox of the soundtracks of the '50s,'60',70's and beyond" – Michael Molenda (former Editor-in-Chief GUITAR PLAYER magazine; founder, Guardians of Guitar)
"Missing Dave Crimmen would be "Crimmen-All" – Glen Starkey (New Times Magazine)
"Dave Crimmen is very talented. I really appreciate what he's doing" – Brenda Lee (Rock and Roll Hall of Fame Inductee 2002)
"Rock and roll music, if you like it, if you feel it, you can't help but move it. That's what happens to me. I can't help it."- Elvis Presley
Introducing: Love Avengers
"Avengers Assemble"! So who and what is the "Love Avengers"? The "Love Avengers" is an artistic adventure of songwriters, recording artists, producers and performers. The core members are Vicky Mathis Curtis Tom Crowell Maya Coppola and yours truly Dave Crimmen.